"The Internets Premiere 24/7 Free Blues Radio Station"
K
ansas
C
ity
O
nline
R
adio
Recognized by The National Heritage Blues Hall
of Fame as a "Great Blues Radio Station".
Please help KCOR stay on the Air!
100% of donations goes
towards our operating costs.
K
ansas
C
ity
O
nline
R
adio
Blues-Rock and Cool Talk Radio!
Central USA Time

2013 International Best Blues Station by Blues Matters.
Monthly Expenses $220
Nov Received $70
We Need - $150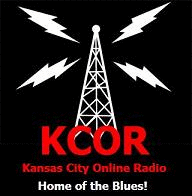 K
ansas
C
ity
O
nline
R
adio
Independent Internet Radio Station
On air
Since 2007
Media Players
Thank You to all who donated recently!!
Ashwyn S in the UK, Bruce M in Grandview, MO,
Chris S in & Sandra B.
Thank you!
Submit your music for airplay
on KCOR
Email
Kevin@kconlineradio.com
New on KCOR
The Supertone Show with Suzy Starlite and Simon Campbell
The Supertone Show is presented by European blues awards nominees Suzy Starlite & Simon
Campbell of the Starlite Campbell Band and features an eclectic mix of music from their
vinyl collection and beyond. The show is based on a love of music and music-inspired stories.
Friday 12 Noon Central Time
Thursday 4am Central Time (Replay)
S

unday 12 Midnight Central Time (Replay)
Blue Savanna
Friday 1pm Central USA Time
Thursday 5am & Sunday 1am Central USA Time (Replay)
A Blues show made for the love of the music, I play tracks to move your feet, your heart and your soul. It's all about the music and nothing else.